South West Sydney COVID19 Mutual Aid + Resources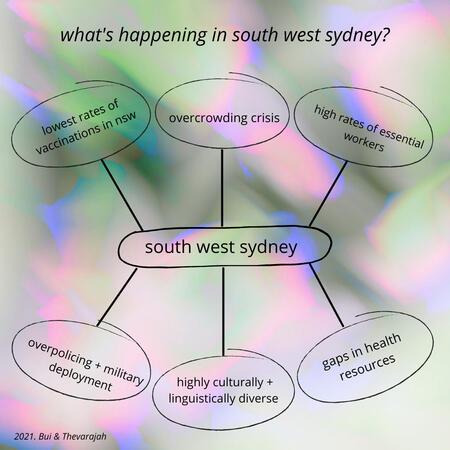 Mutual Aid
| Organisation | Details | Location | Donate Via |
| --- | --- | --- | --- |
| Zen Tea | In the past 18 months, Zen Tea Lounge foundation has been receiving a high number of domestic violence-related calls from both men and women. Currently, they are providing aid and mental health services to support victims | Smithfield | https://bit.ly/3m9LYxC |
| Helping Hands | Resource Share | Fairfield | https://bit.ly/2XA77qr |
| NSW Community Advocates for Prisoners | Mutual Aid supporting service for trans and gender diverse people which primarily provides direct material and other in-kind assistance for those at any stage of contact with NSW Police and Correctional Services NSW | City Wide | https://bit.ly/2W21kZL |
| Core Community Services | Right now, they are providing support services for parents, seniors and marginalised community members; distributing activity packs for children; food aid and material aid | Cabramatta | https://bit.ly/3m5BjnD |
| Islamic Women's Welfare Association | Committed to providing community services targeted at meeting the needs of the multi-cultural Muslim women (and their families) in the area. | Lakemba/Bankstown | https://bit.ly/3iUkfPw |
| Disability Justice Network Mutual Aid Fund | Across so-called Australia, disabled people continue to be oppressed, thrown into poverty, prisons, institutions, and regularly denied the medical and social care needed to survive. This struggle is only amplified for Bla(c)k, Brown, Queer and other multiply marginalised disabled people, with many of us subjected to ongoing violence. This is a national mutual aid fund to provide support to marginalised disabled people. | Nation Wide | https://bit.ly/3B1X8c3 |
| Western Sydney Homeless Connect | Western Sydney Homeless Connect (WSHC) aims to connect people experiencing homelessness in the Western Sydney area with the support of frontline services. Gathering support from housing, legal and government services, the team have a common goal of providing a safe space for some of the most vulnerable people in our community. WSHC now reaches more than 1500 people on one day during Homelessness Week, connecting support providers with individuals and families to help them break out of the cycle of homelessness and disadvantage. | Western Sydney | https://bit.ly/37VwZyJ |
| SydWest Multicultural Services | SydWest Multicultural Services provides quality services and programs to people of all ages and backgrounds across greater western Sydney. | Greater Western Sydney | https://bit.ly/3k4TBmp |
| Western Sydney Community Centre | WSCC was established in 2015 as a not for profit and Charity Organisation to service the wider West and Southwest Sydney regions promoting social cohesion and community harmony. WSCC are currently open to support people with affordable food and grocery options. | Auburn | https://bit.ly/2W0P6AC |
| House of Welcome | Support the food security program by purchasing supermarket electronic vouchers. To limit community movement during the lockdown period House of Welcome has closed its face-to-face foodbank and will distribute vouchers. | South Granville | https://bit.ly/3iTYkbe |
| Community Care Kitchen | Community Care Kitchen (CCK) has set up a COVID relief hotline, offering food and other essential services to help people in tough situations | Canterburry | https://bit.ly/3yVHoq7 |
| Your Community Needs | Food Bank | St Marys | https://bit.ly/3mnIE27 |
---
What's Going On In Western Sydney?
Low Vaccinations

Already economically disenfranchised and disproportionately affected by the first wave of COVID, today, South West Sydney as a whole has the highest rates of COVID and lowest rates of vaccinations
Overcrowding Crisis

"Overcrowding is a big problem in Fairfield. There is a shortage of affordable accommodation, there may be 2 families living within the same house. So when we have heard that large families are contracting the virus, some of these cases are linked to overcrowding. " explains Juana Reinoso, CEO of CORE Community Services, an organisation working with the local migrant and refugee population in Fairfield City
Essential Workers

Despite daily emphasis by governments that essential workplaces are critical sites for the transmission of COVID-19, there has been little action to support and protect essential workers

Out west, the Smithfield-Wetherill Park Industrial Estate is one of the largest industrial areas in the Southern Hemisphere - a region where high numbers of community transmissions are reported.
A report looking at the emergency state of essential workers in NSW revealed:
Only 55% of respondents said their employer has put in place regular extra cleaning of the workplace.Almost half (48%) believe they have been put at risk of Covid-19 transmission in their workplace.only 39% said that social distancing is being consistently applied at work; and fewer than 35% reported that either roster changes or staggered lunch breaks had been introduced to help with this
CALD Culturally and Linguistically Diverse Communities

More than half of Western Sydney's population was born outside of Australia, and majority of households speak a language other than English at home. The diversity of our community makes critical the need to build accessible, culturally appropriate health services

In Fairfield alone, 78% of residents have parents who were born overseas and more than 75% speak a language other than English at home. In Canterbury-Bankstown, just 34.1% of people speak only English at home and in Liverpool, just 31.1% of residents are born in Australia
Overpolicing and Military Deployment

Figures indicate that police officers have been handing out more than twice as many Covid fines to western Sydney residents, than those in other suburbs - even before the crackdown in the city's west and southwest started.
Contingent of up to 300 ADF troops have been deployed to enforce rules in eight western and southwestern Sydney council areas
Gaps in Health Resources

South-west Sydney hospitals are historically underfunded, and even amidst this COVID crisis, no additional help has been announced. Long before COVID, parliament alongside experts have combed through evidence to examine the state of hospitals out in Western Sydney. A single finding was made: "Health and hospital services in south-west Sydney have experienced historic underfunding from successive governments."

Hospitals across Western Sydney have reported they are critically understaffed, with COVID-positive patients reportedly queueing for hours in ambulances for admission.
This resource is being regularly updated, please contact the email below for more details or to request an adding of organisation